TrustKeys Network is a project developed by TKBlockchain Company (headquartered in BVI – UK) with the company's own capital to develop from 2018 to present. After completing the basic modules of the ecosystem, TrustKeys Network began to carry out communication activities to introduce to the community and investors this special project. The expected time to implement this activity is from the fourth quarter of 2021.
What is TrustKeys Network? 
Trustkeys Network is a Blockchain ecosystem that includes: Decentralized identity social network, cryptocurrency exchange and digital asset storage wallet. TrustKeys Network was created to help the community have the most complete Blockchain application that meets the needs of investing, storing assets, exchanging information safely and reliably.
Products in the Trustkeys Network ecosystem:
1. TrustKeys Blockchain Identity Social Network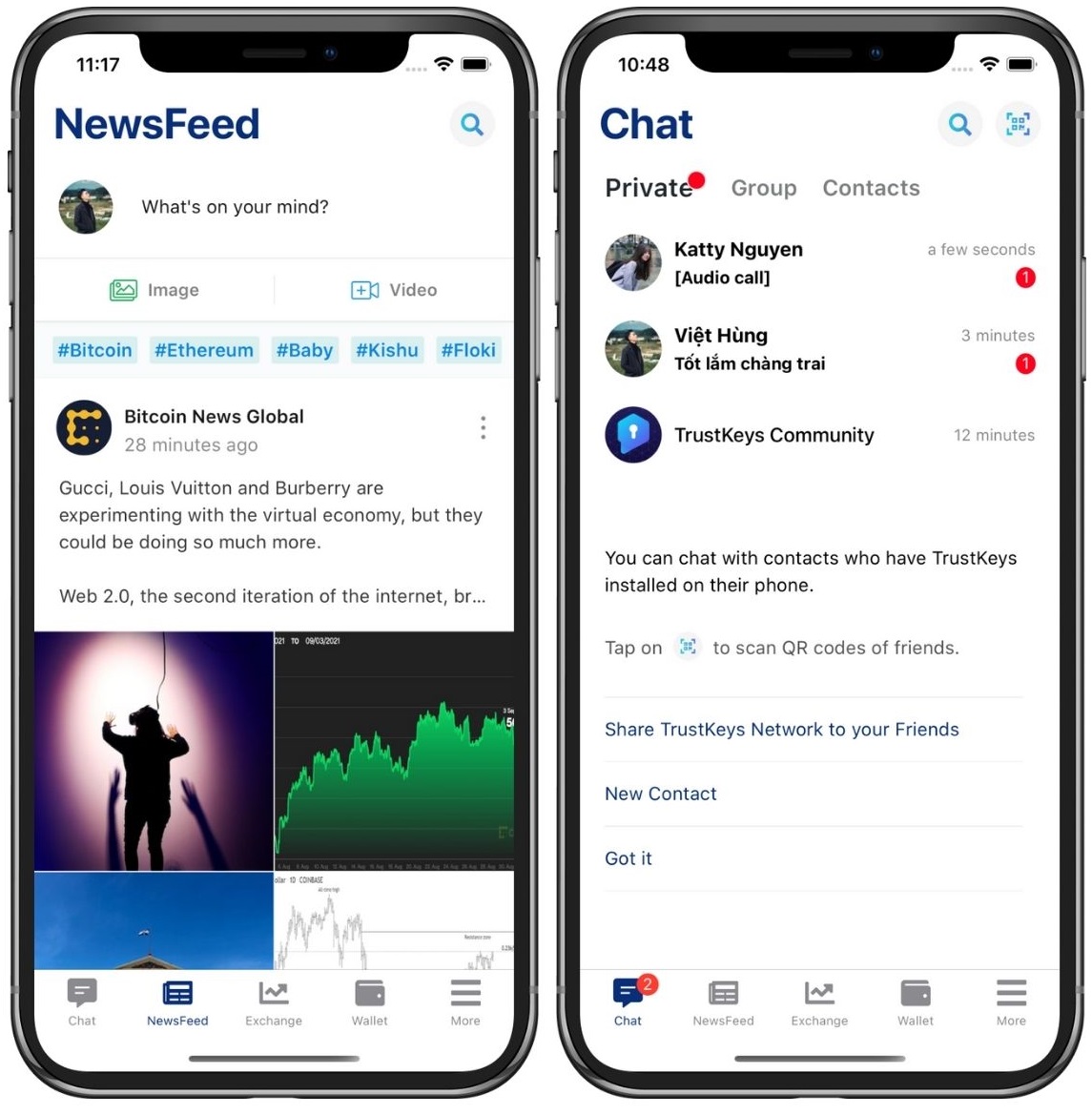 Where accounts are identified and cannot be tampered with. Information exchanged between users is end-to-end encrypted, so it is extremely secure. The TrustKeys Social Network development team are experts in the field of computer science. They have built and want to develop this social network to become the world's first Blockchain identity social network that helps participants not only own their accounts but also have a reliable source of information. Besides, users can also transact directly with each other to buy and sell cryptocurrencies easily.
2. TrustKeys Wallet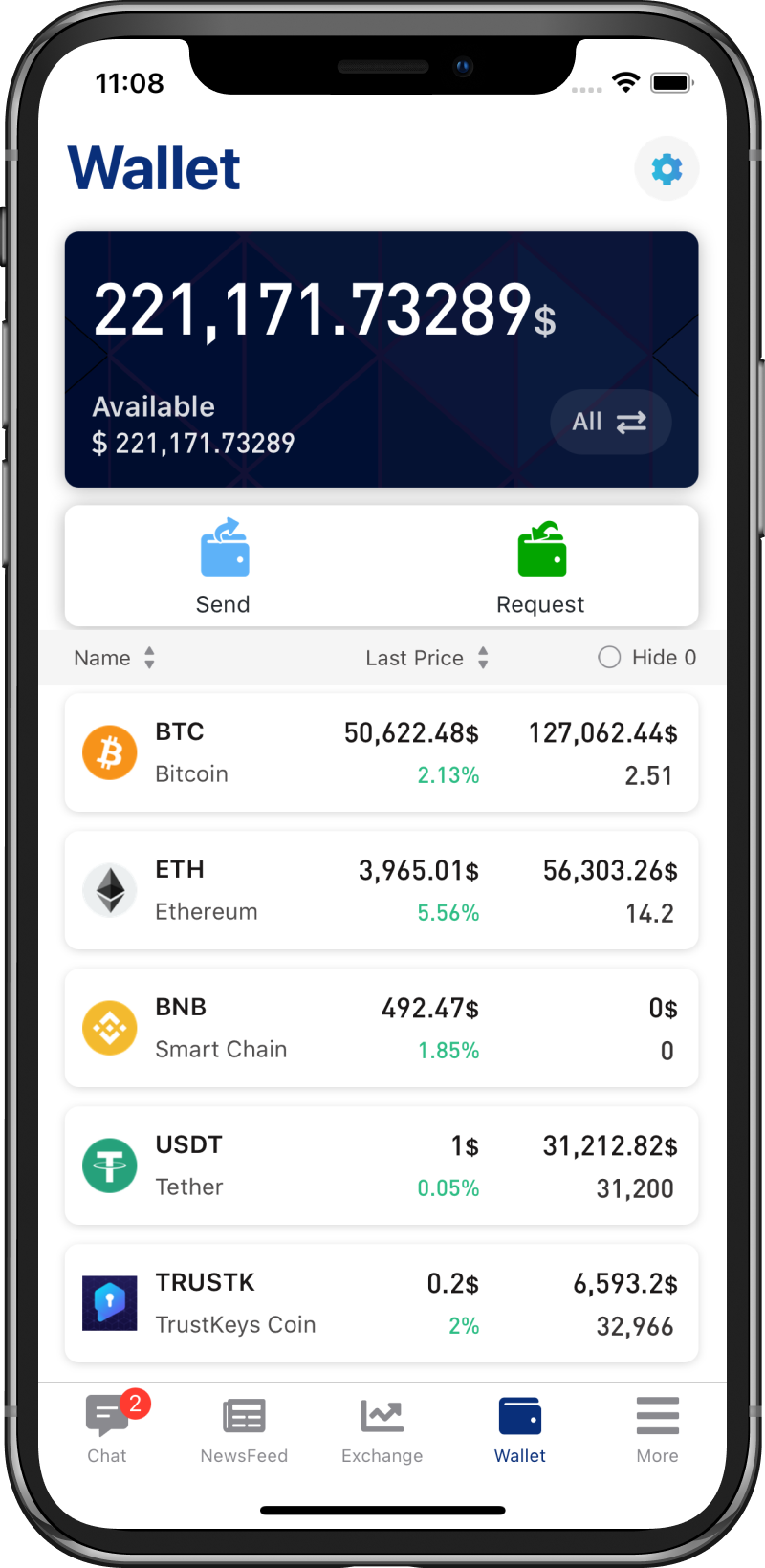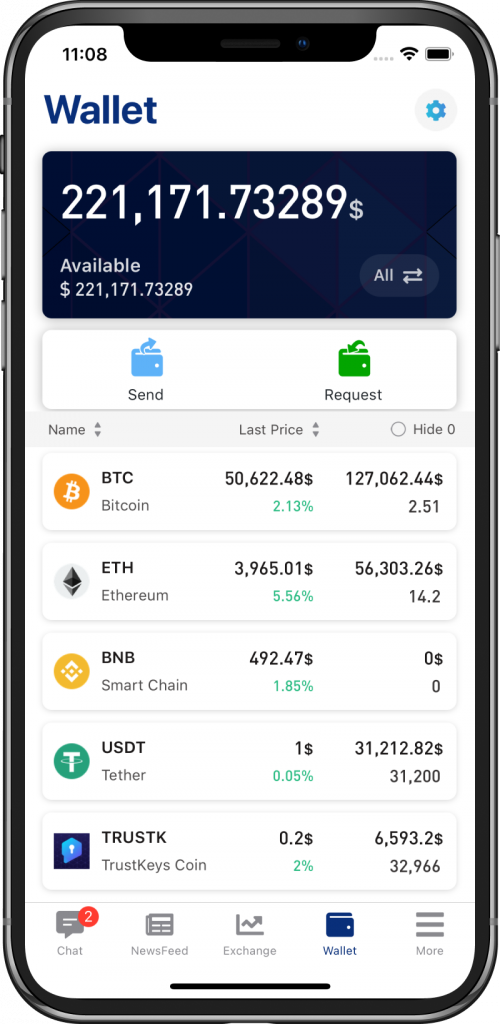 As a means of helping users to store their cryptocurrency. With a private key designed with 24 characters that is extremely secure, managing TrustKeys Wallet becomes very easy. TrustKeys Wallet supports multi-chain (ERC, BSC, TRC..) which can be used with most cryptocurrencies today. In addition, TrustKeys wallet will be integrated with NFT in the near future.
3. TrustKeys Exchange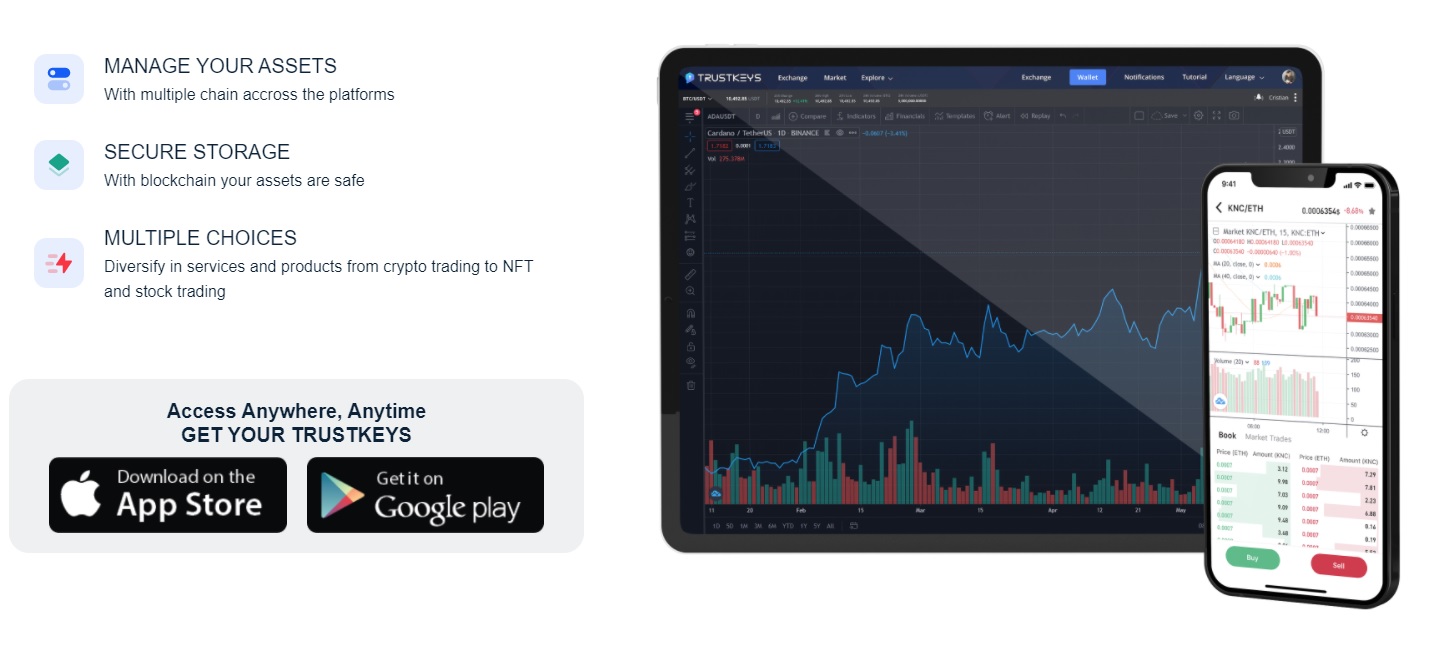 As a HEX type, the exchange takes advantage of both DEX and CEX, which is very safe and secure. TrustKeys exchange makes it easy for users to trade, buy, sell and exchange between cryptocurrencies and fiat currencies of countries. In addition, the registration and account management procedures are simplified. Users only need to keep 24 secure characters to be able to manage their accounts easily.
You can download and experience the TrustKeys exchange here: https://trustkeys.network/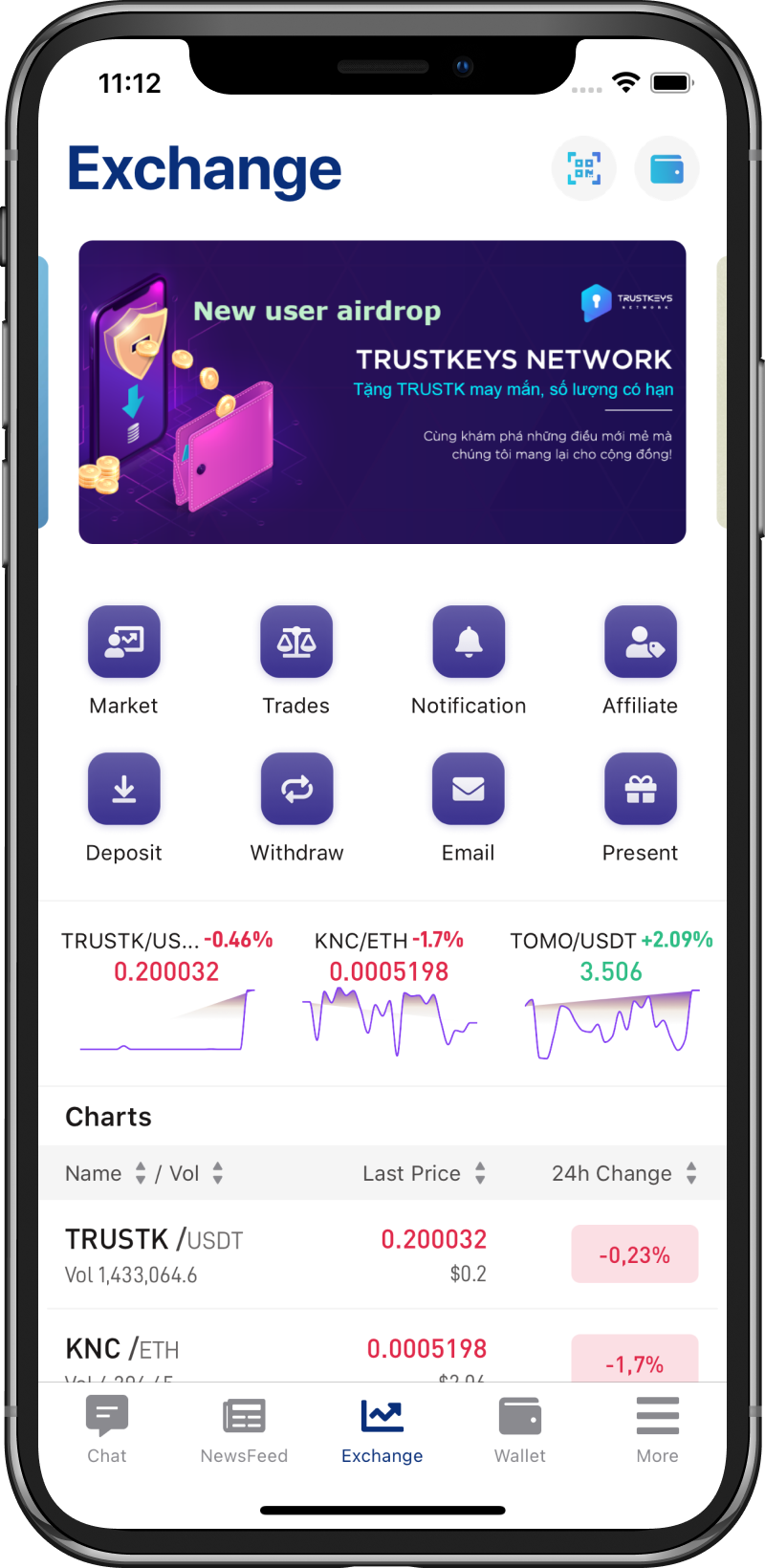 4. Features and products under development:
Launchpad: The IDO platform that helps projects launch their tokens.
Markets: Blockchain data aggregation platform on-chain, helping users update information from the market.
Terminal (Utilities): DeFi Toolkit & Utilities, helping users to enter the DeFi world easily.
Lend & Borrow: TrustKeys Network lending and borrowing platform.
Mega Farm: Farming marketplace on TrustKeys Exchange.
Staking: Support Staking feature of many Crypto assets for users.
NFT Marketplace: The NFT trading market on TrustKeys Wallet.
Derivatives: Derivatives market includes Margin Trading, Future Trading, Option Trading, etc.

Launching the Dex exchange in parallel with the Trustkeys ecosystem.

P2P Trading right on the exchange.
5. TrustKeys Network Ecosystem Goal and Vision
Provide Blockchain super application, Blockchain social network, secure wallet, and Crypto asset exchange to meet everyone's daily use needs.

Exploit excess resources in the community related to the property.

Developing a global ecosystem of financial connection and asset digitization based on blockchain. Combining traditional and modern business model, TrustKeys will become a private Blockchain called TKBlockchain.

TKBlockchain will develop One-Stop modules that help startups easily integrate and apply Blockchain into their business.
TRUSTK token infomation detail: 
You can track TRUSTK's pricing information here: https://trustkeys.exchange/exchange/?currency=TRUSTK/USDT
Keys Metric TRUSTK: 
Token name: TrustKeys Coin

Ticker: TRUSTK

Blockchain: Multichain BSC, Ethereum, Solana & TrustKeys Chain

Token standard: BEP-20, ERC-20, SLP

BSC contract: 0xee89bd9af5e72b19b48cac3e51acde3a09a3ade3

Token type: Utility, Governance

Total Supply: 1.000.000.000 TRUSTK

Circulating Supply: 120,000,000 TRUSTK

Max Total Supply: 1.000.000.000 TRUSTK (Lock 55% in 5 years not sold on the market)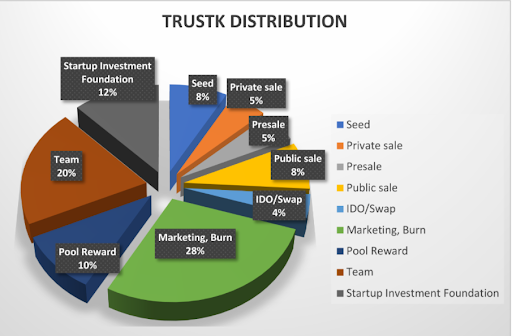 Detailed allocation information: 
Round 1: Seed: 8% = 80.000.000 TRUSTK * 0.02$, lock 24 months, Vesting 20% quarterly.

Round 2: Private: 5% = 50.000.000 TRUSTK * 0.04$, lock 18 months, Vesting 15% quarterly. 

Round 3: Pre: 5% = 50.000.000 TRUSTK * 0.08$, lock 12 months, Vesting 20% quarterly. 

Round 4: Public: 8% = 80.000.000 TRUSK, price from $0,15 – $0,2+, no lock

Round 5: IDO/Swap: 4% = 40.000.000 TRUSK, price from 0,3$, no lock
If the coins are not sold out, the remaining coins will be recovered for burning.
Marketing/Burn: 28%. 23% of it will be locked for 5 years; after 5 years it will be unlocked year by year.

Pool Reward: 10%. 7% of it will be locked for 5 years; after 5 years it will be unlocked year by year.

Team: 20%. 15% of it will be locked for 5 years; after 5 years it will be unlocked month by month for 24 months.

Startup Investment Foundation: 12%, 10% of it will be locked for 5 years. 
Total TRUSTK will be locked for 5 years: 55%
An addition, TRUSTK will be redeemed and burned with a maximum amount of 30% = 300,000,000 TRUSTK.
TRUSTK's role in the TrustKeys Network ecosystem
TRUSTK is the Ecosystem Token of TrustKeys Network and it is used for the following purposes:

Pay transaction fees at a cheaper rate on the TrustKeys exchange.

Pay fees such as listing fees, asset digitization, technology, and other revenues from the TrustKeys Network ecosystem.

Reward system developers.

TRUSTK holders have the right to vote for the development of the ecosystem and also have the right to buy potential projects at a more favorable price in an earlier time.

Pay interest for Liquidity Provider, staking…

Payment for consumer utility services integrated and developed by TrustKeys Network partners on the One-Stop TKBlockchain platform (in the future).

Paying advertising fees on the chat application and TrustKeys Blockchain Social Network.
How to earn and own TRUSTK
Buy TRUSTK directly on the TrustKeys Exchange.

Buy IDO on DEX (expected October 2021).

Receive Airdrops for following events organized by TrustKeys for people who have installed the TrustKeys app.

Join affiliate marketing to grow the community of TrustKeys Network to receive rewards.
TRUSTK transaction storage
You can store TRUSTK in your wallet in the same app.

TRUSTK is currently being traded on the TrustKeys exchange and is expected to be listed on major exchanges like Binance, Huobi, Bittrex.. (to be updated).
TrustKeys Network ecosystem development roadmap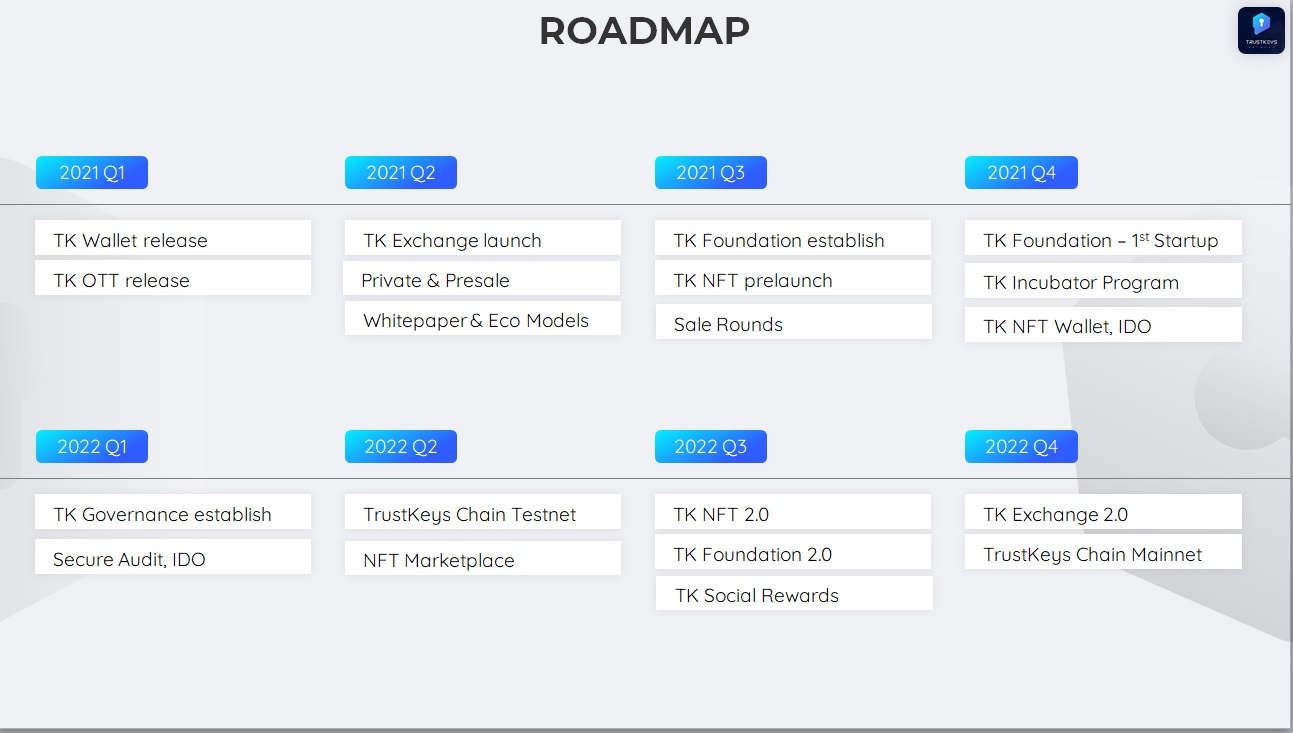 Project construction team, investors and partners:
TrustKeys Network is an ecosystem built by Vietnamese experts with long experience in the field of computer science. They have successfully built many different business models and social networks.
You can see the full information in section 6 of the Whitepaper here: https://docsend.com/view/qe5zhxggaju3vs8x 
Investor – Partner
Just over a month after launching the TrustKeys ecosystem product, the TKBlockchain company has completed funding calls from strategic investors in Round 1 and Round 2 with the amount of $ 3.6 million. In addition, TrustKeys Network is still negotiating with other reputable institutional investors.
Some of the Investors – partners that have invested with TrustKeys Network can include:
KyberNetwork

Vitex Capital

VBC Ventures

SONEK,. JSC

Krystal

Verichains Co-Founder

MH Group

Noron.vn

Giuptoi.vn
Information about investors, organizations and partners will be updated by us in the near future.
The above is an overview of the TrustKeys Network ecosystem that we would like to inform you about. We hope that this information will help you understand the project and join us to make TrustKeys Network more and more popular around the world.
Your questions can be quickly answered at the TrustKeys Network community sites: